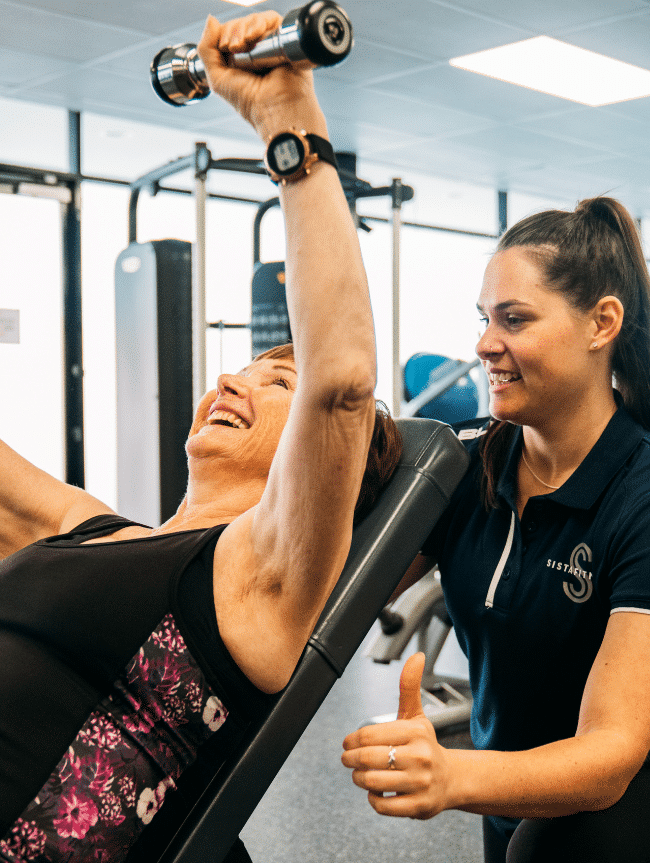 Personal Training At Sista Fitness
Do you have a specific health or fitness goal in mind? Are you recovering from injury? Are you pregnant or a new mum looking to safely maintain a gym routine? Or are you simply lacking in motivation?
Our Personal Trainers are ready to work alongside you and help you achieve your goals; no matter what they look like.
If you're new to the gym or have never worked with a trainer previously:
Working with a Personal Trainer is a great starting point. During one-on-one training, your PT will guide you through a session that is tailored to your needs and goals. They will also ensure that your technique is correct and that you are working out safely.  Our trainers will challenge you to bring the best out of you every day, hold you accountable to your goals and help your strength and confidence in the gym grow. 
If you're working towards a specific health and fitness goal:
Many members attend our clubs with specific health and fitness goals in mind. We are here to support you throughout your journeys and offer assistance as required. Personal trainers can develop personalised training programs for you and work with you individually to help you achieve these goals and more. 
If you're pre or post-natal:
You can continue to exercise throughout your pregnancy and in the months after giving birth. A number of our trainers specialise in pre and post-natal training and will help you safely stay active during this period.
If you're returning to the gym from injury or require injury management:
Our trainers are available to assist with injury management and recovery. Sessions are personalised to your capabilities and are designed to help you train safely and effectively.
PT Pricing
Casual 30min 1:1 PT Session = $50
12 Pack: $47 per week (for 12 weeks)​
24 Pack: $88 per week (for 12 weeks)
36 Pack: $123 per week (for 12 weeks) ​
52 Pack: $40 per week (for 52 weeks)​
104 Pack: $78 per week (for 52 weeks)​
156 Pack: $117 per week (for 52 weeks)​
Ready to Get Started?
Start with one of our affordable plans. There's something for everyone.
Other Personal Training Offerings:
Personalised Programs: We offer personalised programs for members who wish to maximise their training on the gym floor. One of our PTs will assess your current health and fitness situation, along with your goals and from there, will create a personalised training program for you to follow on the gym floor.
Body Composition Scan: If you are looking to understand your body a little better, then we recommend undertaking a body composition scan. The scan will give you an in-depth breakdown of your body and could be the tool you need to help you track your progress or kickstart your journey