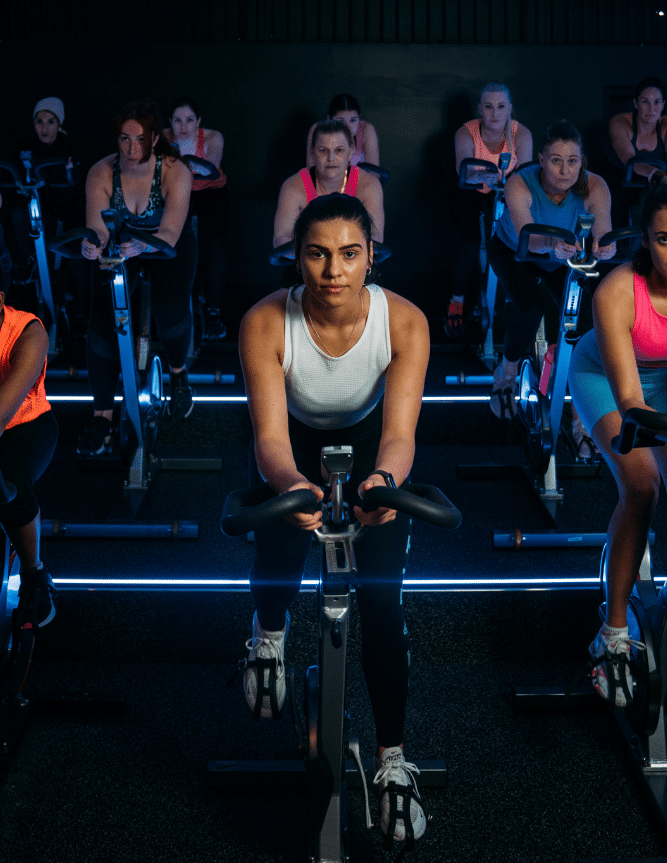 Group Fitness Classes
At Sista Fitness, we run a variety of Group Fitness classes each week. HIIT, Cycle, Boxing, Dance, Weights, Wellness, Pilates… whatever you are looking, we will have something for you.
FUNCTIONAL TRAINING
Functional Training is also known as HIIT: High Intensity Interval Training. Classes follow a Tabata structure that'll have you working hard for a set period of time, before taking a quick breather and doing it all again.
We run classes seven days a week in our designated Functional Training space.
VIEW OUR FULL FUNCTIONAL TRAINING OFFERING HERE
BODYATTACK
BODYATTACK™ is a high-energy fitness class with moves that cater for total beginners to total addicts. We combine athletic movements like running, lunging and jumping with strength exercises such as push-ups and squats. Instructors will pump out energizing tunes and lead you through the workout – challenging your limits and leaving you with a sense of achievement.

  STANDARD CLASS
BODYPUMP
Using light to moderate weights with lots of repetition, BODYPUMP gives you a total body workout. Instructors will coach you through the scientifically proven moves and techniques pumping out encouragement, motivation and great music – helping you achieve much more than on your own! You'll leave the class feeling challenged and motivated, ready to come back for more.

STANDARD CLASS   |   

  EXPRESS CLASS
BODYCOMBAT
PUNCH AND KICK YOUR WAY INTO KNOCKOUT SHAPE. BODYCOMBAT is a high-energy martial-arts inspired workout is totally non-contact and there are no complex moves to master. Our instructors will challenge you to up the intensity and motivate you to make the most of every round. You'll release stress, have a blast and feel like a champ.

   STANDARD CLASS
RPM
Born from the sport of cycle racing, RPM™ uses simulated climbs and sprints in a workout where you control the intensity. It's fun, low impact and a great way to cycle through the day!
With great music pumping and the group riding as one, your instructor takes you on a journey of hill climbs, sprints and flat riding. In an RPM workout you repeatedly reach your cardio peak then ease back down, keeping pace with the pack to lift your personal performance and boost your cardio fitness.
RPM is a great way to build up your sense of personal achievement. You can draw on the group's energy and find your rhythm in the music. You control your own resistance levels and speed so you can build up your fitness level over time. It's a journey, not a race!

   STANDARD CLASS   | 

   EXPRESS CLASS
METAFIT
Welcome to the half hour of power. Metafit is a high intensity, 30-minute workout that will work your entire body like few classes before it. This bodyweight-only fitness class uses simple and effective exercises designed to set your metabolism on fire. These exercises are performed at peak intensity aimed to push you to your limits. Keep it simple, keep getting stronger and keep it sweaty, that is the Metafit promise.
KONGA
Combine Boxing, Cardio, Dance and Sculpting and the world's hottest tunes and you have KONGA® ; an easy-to-follow and mood-elevating workout designed to tone your body, get your heart racing and unleash your inner dancing queen. The 50- minute class is suitable for all ages and fitness levels, with its simple structure encouraging you to follow along at your own pace. KONGA® is designed to be super inclusive for all shapes, ages, sizes and of course those who have two left feet.
STEP FREESTYLE
Get your daily steps in with a twist: Step Freestyle is a medium to high intensity Aerobics class that utilises an elevated platform to work, tone and shape your lower body. The music is upbeat, the moves are easy to follow and the good vibes and positive energy in the room in infectious! Not only is Step Freestyle super fun but it also improves endurance, coordination, agility and leg strength.
SPIN EXPRESS
Everything you love about a spin class, compacted into a half an hour class.
BOXING
Sista Fitness boxing combines an array of high intensity boxing manoeuvres to help you become fitter and stronger, all to the turn of inspiring and upbeat music. The sustained intensity is designed to burn calories and maximise results from the get-go. Not only will you be boxing individually but activities are also completed in pairs, so you can work together to power through the session.
Please note: Boxing equipment is provided, but we recommend bringing glove inners for your own personal hygiene.
WELLNESS CLASSES
There's no better way to compliment your jam-packed gym schedule than diving into our wellness offering.


Allow your muscles and mind to move gently through our Yoga, Pilates, BodyBalance and Stretch sessions. Embrace the slower pace of our Wellness classes and take the time to focus on your breathing, flexibility and posture.


VIEW OUR FULL WELLNESS OFFERING HERE
REFORMER PILATES
Reformer Pilates is a full body workout that is aimed to shape and tone your muscles, whilst still concentrating on activating and strengthening your core. It also focuses on breathwork and balance.


VIEW OUR FULL REFORMER PILATES OFFERING HERE
Ready to Get Started?
Start with one of our affordable plans. There's something for everyone.