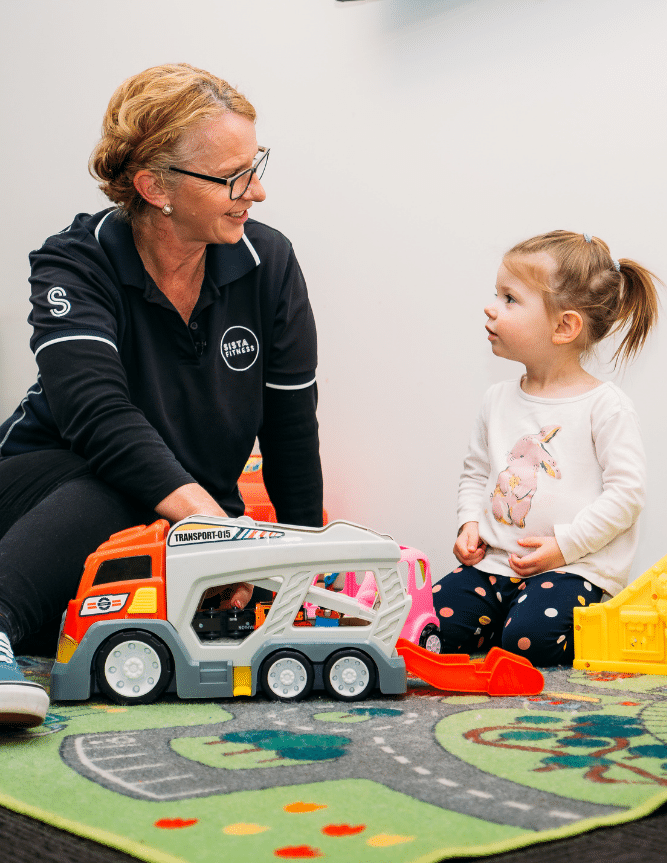 Crèche
Mum, it's about time you had some 'ME' time. Our purpose built crèche is a safe and fun environment for your child to be left so you can focus on you and your workout. Our staff are friendly, our space is clean and everyone loves coming to the crèche… mums and children alike!
We have a range of fun and engaging activities, including games, audio visual entertainment, arts and crafts and books of all levels for individual reading and story-telling. Peace of mind (and quiet) for mum.
Crèche Hours:
Midland
Monday – Friday ____________ 8:00am – 12:00pm
Saturday___________________ 7:30am – 11:00am
Morley
Monday – Friday __________ 9:00am – 12:00pm
Harrisdale
Monday – Friday
(Mornings)________________ 9:00am – 12:00pm
Monday – Wednesday (Afternoons)_______________ 3:30pm – 6:30pm
Saturday___________________ 7:30am – 10:30am
At Sista Fitness, we provide a safe and friendly environment for all members and their children are no exception! To help us maintain these standards, we kindly ask you to note the following information.
Bookings
Crèche sessions times vary across our locations, please see above for our current hours. Crèche bookings can be made via the Sista Fitness App or Website up to 48 hours in advance.
Responsibilities
Parents are required to remain within the facility at all times and must be able to attend to their child's needs (if required)
If crèche staff are unable to attend a child's needs immediately (ie. If a child is upset, requires feeding, the bathroom or a nappy change), parents will be asked to return to the crèche and must do so immediately
Should your child not be attending a crèche booking for any reason, we kindly ask that you cancel your booking via the app or contact reception as soon as possible
Parents are required to directly supervise their children before and after crèche attendance times
Immunisation
Children attending Sista Fitness crèche must be immunised according to the schedule and guidelines recommended by the Australian Government Department of Health. Parents are required to provide a copy of their child's immunisation record upon enrolment and provide updated information as further immunisation in required.
What to bring
Only fruit is permitted in the crèche. A piece of fruit cut up in a container is ideal. PLEASE NOTE THE CRECHE IS A STRICTLY NUT FREE ZONE
Water bottle
A favourite toy or comfort item. Please note that staff cannot accept responsibility for personal items.
A change of clothes (in case of an accident)
Spare nappies (preferably disposable)
**Please ensure all children's belongings are clearly labelled with their name.
Sickness
Children cannot attend the crèche if they are unwell
Should a child develop any illness symptoms whilst at crèche, they will be returned to their parent immediately
Medication cannot be administered to your child by crèche staff.
Most importantly… have fun!
Ready to Get Started?
Start with one of our affordable plans. There's something for everyone.