Open Day: Time For You
International Women's Day Event
International Women's Day is coming up and we want to celebrate with you!
To extend our celebrations we are hosting an Open Day event and would LOVE to see you all there. Experience the Sista difference yourself, bring a friend to work out in the gym, or try one of our group fitness classes!
An addition to this, we are offering NO JOINING FEE on all new sign-ups from the 8th March to 11th March.
In celebration of International Women's Day we are offering an exclusive flash sale…
No Joining Fee on all new member sign-ups from the 8th to the 11th of March.
SAVE $109!
Memberships available from $18.95/week
Includes Annual, U19, and Reformer Only memberships
*excludes Month-to-Month gym access memberships
Our Open Day will be on Saturday 11 March from 8AM to 12PM. Access our Sista Fitness Midland and Morley clubs for free and enjoy some time with our community! There will be coffee vans, a door prize for attendees, full gym access, group fitness classes, exclusive membership offers and more!
Sista Fitness is also proud to announce our first Speaker Series! This is a free event for members and non-members that will complement our Open Day and give you the opportunity to be inspired by some amazing women from our wider community.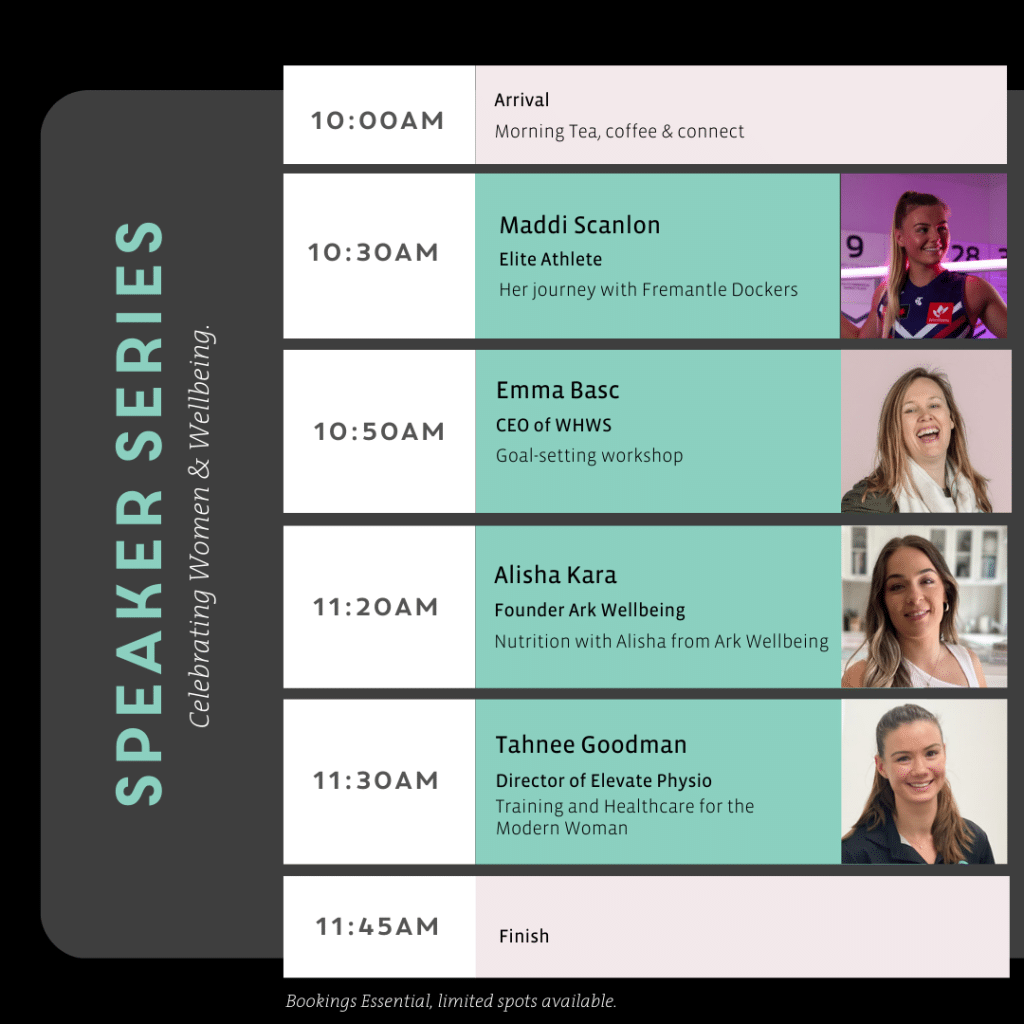 Speaker Series:
Celebrating Women and Wellbeing
The workshop will run from 10am to 11:45am at our Midland Facility, and is inclusive of morning tea and coffee. We have four amazing guests presenting this year, which includes a workshop run by Emma Basc. Bookings are essential and can be made via the link below, or through the SF App for existing members via the bookings tab. There are limited spots available so get in quick!
Guest Line-up:
Maddy Scanlon – Professional Athlete and Freo Dockers Player
Her Journey followed by Q&A
Emma Basc – CEO of WHWS
Goal-setting Workshop
Akisha Kara – Founder of Ark Wellbeing
Nutrition with Alisha from Ark Wellbeing
Tahnee Goodman – Director of Elevate Physio & Performance
Training and Healthcare for the Modern Woman
Step 1:
Register for our International Women's Day Open Day using the link below.
Claim your free pass to visit or book a class below:
Step 2:
Book into the Speaker Series workshop or group classes for free, on Saturday the 11th March.
Secure your place in the workshop below:
Please note: Class availability is limited. Speaker Series bookings are available now. Reformer Pilates at Midland can be booked 7 days in advance. All other classes can be booked 48 hours in advance.
*Limited spots for classes and workshops, bookings are essential.